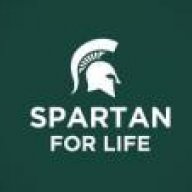 Messages

1,709
Reaction score

2,294
Location
Anyone on here ever have ACL knee reconstruction as a boat owner? I blew mine out in football and "training for a come back"
when in high school/college. Unfortunately, I recently blew it out again in a staff-student basketball game. Now I am experiencing this "fun" as an older version of myself at 49.
With summer around the corner in Michigan, and boating season and our lake levels being SHORT (boat out BY Labor Day weekend/early September with HL low water levels), I am really contemplating no boating this summer.
IF you have had specifically ACL reconstruction as an adult boater, can you share your thoughts and experience. I'm on a big lake that can get pretty rough in certain conditions. That worries me. It's kept on a lift. I am the only one willing to really dock it, put it on the lift, etc... That often requires rapid movement, assistance and muscle power from me. That worries me too as I will not be capable of any of the above through the entire summer.
Surgery is at the end of this month, and follow up P-T will run me through July, potentially into early August. Somewhat normal mobility is a solid 4 months out from surgery, strength and flexibility 6+ months out.
As a result, I am really considering keeping the boat in storage and waiting on the 2020 boating season. The possibility of this is FRUSTRATING me to no end at the moment.
Is it realistic that I might be able to boat, given the above information, during P-T on an ACL reconstruction? OR am I likely risking trouble and just need to give it up for an entire season?
Any personal first-hand experience would be appreciated. Thanks.