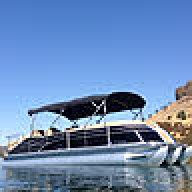 Messages

586
Reaction score

406
Location

I was getting a system fault warning on my dashboard. I have a 2012 25 QCW with the Merc V8 and Bravo 3 outdrive. My boat was idling very rough & missing at the end of a long idle up river. Under a load the boat team fine. I got a "ODB System Fault" error on my dash. It's been like this for a few days.
I was at the local Shell station and they had this on the counter. And to say I was skeptical we'll????. I mean come on anything that says "tuneup in a bottle" has got to be a joke, it might as well have said " as seen on TV" Well for $4 dollars a bottle I bought two of them (says one $4 bottle treats 20 gallons) I figured $8 dollars it's worth a try. I filled the boat up and put 2 of these in.
Well I'm happy to report the engine Missing & ODB Fault is GONE.
I can't believe it. Just thought I would report my results, not sure it will work for you, but if your having the same issues give it a try. I know some people swear by other fuel additives, but this is the first time I have poured somthing into my fuel that it actually did what it said it would do! The gods must be happy with me
https://www.amazon.com/Lucas-Oil-LUC10020-Ounce-Treatment/dp/B0006305RY/ref=mp_s_a_1_6?keywords=lucas+oil+fuel+injector+cleaner&qid=1565198787&s=gateway&sprefix=Lucas+oil+fuel+injector+cleaner&sr=8-6