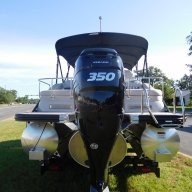 Messages

16
Reaction score

26
We are pretty excited - I have been researching pontoons for 6 weeks - checked out Bennington- Harris- Avalon and Regency. made a decision - changed the decision
This was harder then my house. We liked something about each of them - Ultimately we chose a Bennington yesterday for a few reasons - I could put a big motor on a 23' boat - the Simtex seats were a big deal for my wife - The MANY options in configuration is a blessing and a curse with bennington as you search for the exact boat you want and we found a dealer 2.5 hours away that really beat the price by quite a bit in the big city (dallas) - They had a 2019 model in what we wanted versus ordering a 2020.
We are from The DFW area but this will be at our cabin in Broken Bow OK in a slip and on a lift.
Now to my rookie question - before it ever hits the water I want to do some things - 1 of those being Shark Hide - If its on a trailer, how in the world do you do this? I will be missing an entire area as it is on the trailer bunk or am i overthinking this? Thank you.