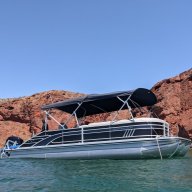 Messages

305
Reaction score

438
Location
This was my list of service, upgrade and warranty items after my first 20 hours of run time . about 15 days on the lake:
Maintenance Service / Upgrades:
20 Hour Service
Replacement L emblem – shore tree reached out and bit my rear Model Emblem
Docking Lights Install: Set of Lumitec Caprera2 LED Deck lights installed under the front deck (existing ones not adequate for late night re-entry).
Prop Repair: I drifted into shore on my first day and nicked the prop. Can you sand the rough edges on the prop?
Warranty Service:
Engine Cowl, Lower correct install: Starboard lower section overlaps Port side
Power Steering Loss / Check: On two trips I lost power steering. Switch batteries it seemed to solve the issue.
Prop Slippage: Noted the prop seemed to be slipping last two trips, primarily after sitting. Running the boat in reverse for a about 10 feet seemed to solve the issue. Issue with the Hub?
Engine Fail / will not stay running: Last day out: Engine would not remain running past a few minutes at a time, with 5 to 10 minutes between starts. Possible vacuum / fuel feeding issue?
Gas Tank Filling: About our 4th fill using the same pump, take was overfilling with the overflow spilling onto the deck. Vapor / Venting issue?
Capacity Tag: Install correct Capacity Tag (12 on sticker, specs are 16)
LED's: Colors of all the lights are not always coordinated, particularly Blue.
Engine Mount Position: Boat with Merc 350 sits very deep in the water. WOT produced 44mph trimmed in the 20 to 25 range with a max 6,100 RPM's. Benny Owner posts suggest we should get closer to 50 in the 6,300/6,400 RPM range. Let's raise the engine 1 hole (currently in hole #3) and try an Enertia 14.5x17.
Co-Captain Seat Loose Noted this seat is a tad wobbly.
Floor Storage Seal: This was falling off when the boat arrived, repair was attempted, but it came off again. I believe the seal was stretched creating constant pull that in hot sun failed.
Active Trim: My Simrad says the Active Trim module is missing, so this feature is either missing, not programmed, or not working.
Bilge Pump Wiring: We leave the Benny in the water with the mooring cover on and double Bimini up – 2 to 3 weeks between visits. Heavy monsoon rains hit the front deck and drain down the boat into the floor storage / gas tank – there must have been 30++ gallons built up at our last visit, the pump ran for 7+ minutes. The Bilge Pump is wired through the master power switch under the throttle helm and then the main power switch in the battery compartment. This means I can't turn off the batteries to prevent any residual / phantom drain BUT I need the bilge pump on to prevent build up and mold from the rain. Can you / any issues with getting the bilge pump wired directly to the batteries, ideally with a separate A/B switch next to the battery?
Maintenance Advice:
Gas Treatments: Over the summer we are using the boat about 6 days per month, 3 days every other weekend. Then Sept until May/June best case is one use every month or two. Gas is reported as 91 premium non-ethanol. Do you recommend the Quicksilver additives?

Quickcare Fuel Treatment – every fill?
Quickcleen Fuel & System Cleaner – 1x per year before summer season?
Quickstore Fuel Stabilizer – when filling in winter months when the boat might sit for a couple of months without use?
Recommended Detailing: Any feedback based on your observation / experience on Wax vs Ceramic coatings in the hot Havasu Sun?