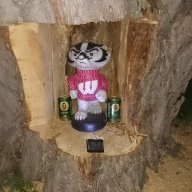 Messages

1,567
Reaction score

1,818
I think that we can discuss this current pandemic without getting politically sidetracked. If not, I'm sure that it's shut down.
This virus will likely wreak havoc on multiple members families or circle of friends and I thought a place to share may be comforting to some and interesting to others.

Middle of nowhere, we pretty much thought we'd get through this unscathed.
Truth is our remoteness only put us off for a later wave.

My wife works in a nursing home. They had kept it out until last week. It's crazy how once it breaks penetration into one of those facilities it explodes inside.

We missed the family Thanksgiving thing in 1993 from a blizzard. Haven't missed another since, until this year. My wife is so afraid of giving it to her mom or my mom.
The elephant in the room is Christmas... Haven't even brought it up yet.

Anyway, I thought a place to vent these feelings would be helpful.
God bless you all, your family and circle of friends. Stay healthy!