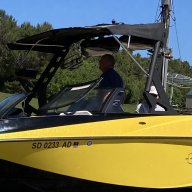 Messages

16
Reaction score

17
Location
I have been getting the Helm Power message on our pontoon. I have read the posted regarding battery rigging on a dual battery system with a 1-2 switch. According to what most say there should be nothing attached directly to either battery other than possibly an on board charger. I usually run my switch on the even-odd day 1-2 switch. I have attached a picture of my battery #2 which has two non switch terminal connections. Can anyone identify these positive-negative connections?
My dealer is 90 miles away and just want to be able ask an intelligent question about why these two would be direct connections.
Thanks for any help. This forum has been a great resource and hope to be able to offer up some assistance to others rather than just ask for help.