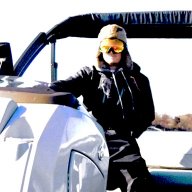 Messages

1,033
Reaction score

1,653
Location
Based on Yamaha numbers, I'm not convinced that the twin elliptical is faster and more efficient than a 3-log setup.

Two performance bulletins with exact motor, almost exact weight, exact prop and more favorable conditions for the twin elliptical (calmer winds and higher motor position). 3 toon SPS faster (41.4 vs 40.6 mph) and better fuel efficiency at WOT. You'll also notice that the twin elliptical doesn't get up on plane until 3000rpm and it does so more abruptly as opposed to the SPS which has a more gradual climb onto plane starting around 2000-2500, and only time the twin is more fuel efficient is below planing speed.



That being said, not a material enough difference if just looking at speed and efficiency to justify the extra $$$ for the third log.

Where it does matter (for me at least) are the additional:

1) rough water handling. Today was a perfect example loaded down with 8 people hitting 2-3 footers out on the main river. For sure we were getting bounced around a little, but instead of white-knuckling it the kids were actually having a blast.

2) center toon storage. Invaluable

3) turning ability at speed. River was filled with wood today and we had to take some evasive action at 45mph to avoid prop/skeg damage

4) larger fuel capacity, upgrade possible to 52gal tank.

5) and of course ability to hang higher HP motor

Still, 3rd log could put someone well past their budget and could be overkill on a small lake. Just my two cents.

Good luck with the upgrade OP!