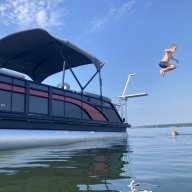 Messages

48
Reaction score

55
Reading a few of the posts, found the benefits of dryer sheets to help keep spiders away (which we are going to start using). Since I have not used them before, and expect when I open the boat up I will find way too many spiders - I wondered if I should do a one-time-start-of-season blitz of the spiders. There seems to be a few ideas on the forum (e.g., Suspend SC, homemade spray with peppermint oil).

So my question is: to start the season off (and then use dryer sheets from that point on) would you recommend I use Suspend SC spray OR should use the homemade spray with the peppermint oil in it or something else?

Any thoughts and advice would be greatly appreciated!