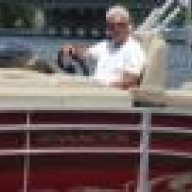 Messages

5,570
Reaction score

3,189
Location
I didn't want to hijack a thread so I started this new. In a discussion on adding the power steering and cost Bamaman wrote "That makes my Yamaha F150 w/o power steering much more attractive. From what I can tell, I'm only giving up between 3 and 6 mph to the F250 motors"

That statement amazed me so I just went and looked at the prop spec that Eric started and was amazed. I Realize this does not take into account the toon packages but tallied the results on R series boats and most were all 2275:

I have the Yamaha 115 and generally top out at 26, this seems to be pretty much the average

The 150's come in from 33 to a high of 44 with most reporting 38mph

a 200HP reported 41mph

Two 225HP report 42 and 43mph

and a 250 reported 42

After seeing that I would think the 150 may be the biggest bang for the buck motor.