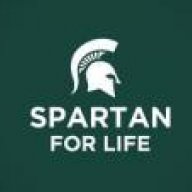 Messages

3,376
Reaction score

4,921
Location
As I stated before I have the same tritoon you mine is a 2018 the best I could get is 42 in wide open throttle half a tank clean Tunes to two adults. 15 x15 SS. Am I understanding that the 200 Verado is the same as the other larger motors. And you can flashthem to bring up the horsepower without damaging the outdrive or the internal parts of the motor.
Do you have the Mercury Verado 200 I4, or the 200 HP Verado Pro I6? That makes a difference. We have the 200 Verado Pro i6 - so that also has the supercharger, and the 6 cylinders.
Ours can be ECU flashed up to something like 300 or 325 HP. In the I6 version, they are all the same motor tuned and ECU'd to different HP. That said, I am unsure if there are any nuanced and slightly unique parts in the different models. Most people tell me there are not, but I am not sure I am 100% on board with that. Just seems off in my mind...