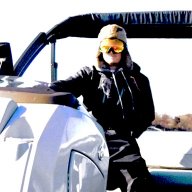 Messages

726
Reaction score

1,147
Location
Just a reminder to everyone to check your oil several times during the season. Especially with Yamaha's that are known to "make oil" when fuel bypasses the piston rings and is introduced into your oil, impacting its ability to lubricate the engine.
About a month ago I gave the dipstick a check and the level was about an inch over the high marker. Oil was last changed in the spring by the dealer and only had about 50 hours of running time since then. I do run WOT a lot which I've read helps keeps the rings nice and tight to the cylinder walls, so this result was a bit of a surprise.
Today I checked the level again and it was now 1.5 inches higher, so the problem is getting worse. Extracted the oil and I pulled well over 7 liters (spec is 6.3 per Yamaha) - it was jet black, smelled of fuel and very diluted. Refilled with 10W-30.
I'm sending the old oil off to Blackstone for analysis to confirm if there is fuel or not. In the meantime the engine is much happier sounding with the proper level and lubrication.
I'm not concerned yet as the engine is still probably breaking in but if this continues I may have to prop down and get the RPMs higher and see if that helps. Will update results when the lab comes back.

Last edited: