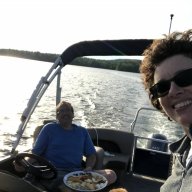 Messages

114
Reaction score

240
Location
We drive our boat 4-5 days a week. Yesterday I started it up after sitting for 2 days and immediately checked the tell tale as I always do, no pee at all. Shut it down. I took a piece of weed whacker string and carefully fed it up through. I hit resistance about 4 inches up. I could tell it was in the straight section so I pushed a little. A very small amount of some sandy powder came out. Started it up and it pissed like a race horse.

My question is what does it take to block the tell tale? I have a hard time believing that the little that came out was actually blocking it, but boy it sure did work when I got it out. Unless the rest of the stuff just washed out when it started flowing?

I am also trying to figure out what blocked it. The other day my prop was close to the bottom of the lake (didn't hit but close). Would sucking sand in cause it to block, I wouldn't think so. Maybe it was just a spider nest, we have plenty of those.