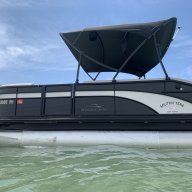 Messages

36
Reaction score

29
Here it is! Thanks to Rod and his team at ATW Marine in Tarpon Springs, FL, for the AWESOME bottom job! The before photos are after about five months in a wet slip, and that's with monthly cleaning! One photo shows a keel that came loose, Bennington was very cool about warrantying the welding repair through ATW Marine, and not necessarily a dealer, thanks to Benny for the love!

A wet slip, as you all know, in Florida is rough on toons, but shit, I did not buy this boat to trailer it all the time...that's a skill I am far too good at LOL. The paint will sure help, and this may be unconventional, I plan on continuing to wet slip this bad boy. It was $2K for the paint or buy a high and dry cradle for probably the same amount of money. Plus the high and dry was about $100 more monthly...

Haven't been able to take it out and crank it up yet, I'm interested in if there really is a noticeable loss of speed. Then again, a 115 HP toon was not bought for racing LOL.