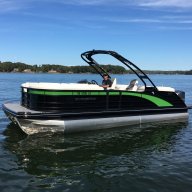 Messages

64
Reaction score

77
Just noticed what sounded like water running under the boat so jumped in to find this:
All my lifting strakes bubble when first submerged, but the starboard strake continued for about 15 mins before I pulled it back out. No visible cracks, excessive water running out when lifted, notable sloshing, or dense sounding toon when slapped. The boat does sit a couple inches lower on the port side, but that could be extra weight on that side (raised helm, etc). I can put my finger on the spot and it stops bubbling (doesn't move down the strake). Maybe a super tight fit between the toon and this strake so air is trapped at this highest point escaping from a small gap? The strake does not have a continuous weld (not saltwater optioned).
Guess my next step is to let it sit in the water for an extended period and see if it stops or shows evidence of taking on water before taking it to my dealer. He said there is significant disassembly so a local welder can access ports to pressure check. No leak and I'm responsible for all costs.
Has anyone experienced a similar bubbling situation? Thanks.
Last edited: