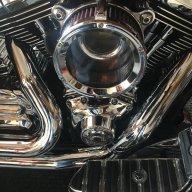 Messages

84
Reaction score

125
Thanks for all the feedback. I wonder if this "tech" could have reset the ECM other wise I dont see how he could have done all that he said he did in in .2Hrs (12 minutes?). Im going to take a breath and decide on reporting all this to Bennington. TBH I had several phone calls with the southeast sales rep during the manufacturing/delivery phase and though he was knowledgeable and did call me back when I left him voicemails etc. he was at wits end with the other thousand customers constantly calling him and asking for status (he told me this).

Regardless got her on the water yesterday! Chugged around at 2K for 1st hour then got her up on "plane" in the 2nd hour per the manual. Has a smooth "happy place" around 4K but didnt go over that. Manual says for the remaining 8hrs of breakin can take her to WOT but not for more than 5 minutes at a time until 10 hrs of run time. She sits a tad stern heavy but levels out around 4K and anxious to get her to WOT today! Will let you know where she tops out speedwise later!!

Edit: Nitro - Maybe he did unplug it or maybe lying or both.
Also - What engine and RPM is yours at WOT?
I have a 21ft"performance package" not the full tri-toon, just about 7/8 of the way back. Trimmed up for speed I'm probably mainly riding on 2 toons. 115 SHO I get about 6050 RPM with a 13.5-14P aluminum Yamaha white prop- top speed with 1/2 tank of fuel by myself was 35.7MPH. With my wife and I on and some beverages with a full tank I'm at about 33.5