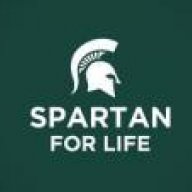 Messages

2,303
Reaction score

3,211
Location
As many know, we keep our Bennington lakeside at our cottage. We are located in the center of the northern lower peninsula of Michigan: Houghton Lake.

In the past due to the lake levels, our shoreline depth, and our old boat lift, we've always had it put it into indoor winter storage at the end of Labor Day weekend. With our Sea Legs now, we can keep it out in the water longer into fall.

Due to overnight temperatures, and concerns with freezing, how late into fall is safe for keeping the boat in the water on the lake? We will be up two more weekends after Labor Day that we are considering. Options are either Sunday, September 22nd, or Monday, October 14th. We otherwise wont be back up until the end of October or early November due to our schedules.

If you know our area of Michigan, do you think keeping it in the water until October 14th is pushing it with overnight temperatures? Do you think we risk any overnight freezing and motor damage?

Since we have a 4 day weekend October 11-14th, we thought it would be awesome to have it on the water with fall colors. However, I'm concerned it is pushing it seasonally with overnight temps and the safer route is just putting it into storage on that September 22nd date. Am I being too worried, and we'd be fine either way?