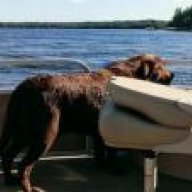 Messages

33
Reaction score

16
Location
On our 2013 20SF, the fuel gauge appears to have stopped working. With ignition off, the needle is below E (expected) and with ignition on, the needle goes to F. It has been at F all season. I've disconnected the connector from the back of the gauge and measured the resistance between the pink sending unit wire and black ground wire several times at various times. After boating for a number of hours, I've had readings of 150 ohms, 110 ohms, 80 ohms. After adding fuel, the resistance is ~35 ohms or so. So, I believe the sending unit is working properly and the gauge is faulty.
A couple of questions,
The gauge part number is 781436PDFB and appears to be made by Teleflex. I've searched, but it doesn't look like the part is available. Does anyone know of similar gauges that use the Deutsch connectors or if some dealers would still have these parts?
If I can't find a unit that uses the same factory connector, does anyone have a source for the connector and pins? I'd rather not cut off the factor connector to wire in a gauge using ring connectors.
Thanks,
Ron