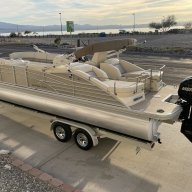 Messages

3
Reaction score

4
Hi, I just bought this boat and love the rear lounge chairs but the one on the right is right by this vent (seems like it is just venting the space under the seat because that's where the gas tank is) that has a bad gas smell sometime so much that you don't want to sit in that chair. I can't believe that is can be normal. I should also say that the gas fill cap is on that side of the boat and there is a what I think to be a gas vent beside that. I have some friends that have a Bennington and I can't remember smelling gas anywhere on their boat.

The only thing I could think of is there are some rubber gaskets on the gas tank that look questionable and maybe they are letting some gas fumes out.

Any help would be much appreciated!!