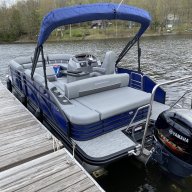 Messages

78
Reaction score

77
The storm ripped though PA yesterday and I watched in horror via webcams and weather radar 90 miles away from the boat. Finally after the storm cleared, some people on Facebook went out checking boats and docks. Entire dock sections and boats disconnected and floated down river. We found somebody who was able to check out our boat, turns out we lost 2 fenders and the boat was rubbing against the dock. As soon as we got word, we hopped in the car and made the 1.5 hour trip to secure the boat. Ended up finding 1 of the missing fenders. Turns out the Taylor Made clips popped of the rail, 4 of the 6 I had on the boat. Found 1 fender floating, 1 missing still.
No damage to the boat, thankfully, just some chewed up dock. Could have been much worse. Here are some pics I grabbed from Facebook.
In the car ride up, we order 3 sets of EZFenders. I'm no longer afraid to drill the rail....