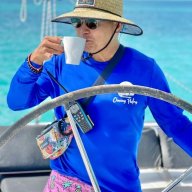 Messages

333
Reaction score

43
Location
Ok, here is my plan. Now that the outside lights are done I want to run strips along the bottom edge of my furniture, to make mood lighting. In the process of getting the lights for the underdeck project, I ordered the wrong ones (3528 NOT 5050 LED's) and have 20 meters left. The difference is, the 5050 LED chips have 3 colors per chip, whereas the 3528 has one per chip, so every third LED is a different color. I figure this will help it look more party light-like, as all the colors are separated.
Opinion time: Should I just stick the strips directly near the bottom of the seats, an inch or so off? Or have any of you seen any sort of mounting channel that will make bends (~2" radius)? I'm planning on hooking up this set to a music controller, so the lights flash, change and fade to the beat...
Already bought this little gem:
http://www.ebay.com/itm/310649849720?var=610184519597&ssPageName=STRK:MEWNX:IT&_trksid=p3984.m1439.l2649
Then will come an 8" disco ball, (2) led spotlights, and more multi colored LED's on the bimini frame (so it illuminates when closed)
I see a second house battery in my future too.