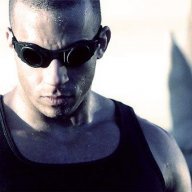 Messages

338
Reaction score

773
Location
Here's a twist on prop selection, and I'd be interested in the opinions here.

I took the original (and only) prop from my 2575 RL with a 5.0L I/O to Baumann's Propellers in Houston to have it checked (feeling a bit of vibration, and one blade seemed to be about 1/8th inch off from the other two). Baumann's is considered the best in Houston - I have clients that are towboat owner/operators on the Houston Ship Channel and they all use Baumann's.

Anyway, I digress.

I had decided I wanted to get a spare prop, since a bent prop could ruin an otherwise carefully planned weekend camping/boating trip.

I ran the Mercury Proper Selector and it didn't even mention the existing prop - a Mercury Mirage Plus 17P. Elsewhere on the Mercury site, it says this prop is for high-horsepower offshore boats.

The guy at Baumann's, who really seemed to know his stuff, said that the Mirage Plus is "one of their best props" and that it is perfect for stern loaded I/O tritoon because it provides a lot of lift. He said the Mercury Selector function wouldn't pick it because they don't list it for pontoons. He could sell me any second prop he wanted, but suggested I stick with the Mirage Plus.