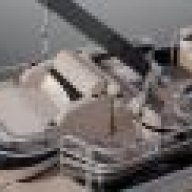 Messages

4,281
Reaction score

2,123
Hey guys, I've been absent a lot lately. Life happens... But I do have a question someone might help me with. Anyone use peppermint essential oil to repel mice over the winter?

I used to use dryer sheets until mice used them to line a nest they made under the rear lounger. They used the box, which had a quarter inch of sheets still in it, as a toilet. There were more turds in the box than the rest of my boat combined.

I added a dozen snap traps last year. Killed a dozen mice. Still turds all over. No serious damage but they did eat a hole in my Bimini top a couple years ago. Now I remove that each winter.

Looking to add peppermint oil this year. Can't hurt. Some people swear mice hate it. I'm also considering an ultrasonic repeller with flashing LEDs, but I'll have to rig up a couple dozen D batteries to run it all winter.