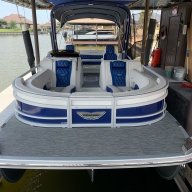 Messages

209
Reaction score

197
Spoke with my dealership, one of the largest in the DFW area. They have never steered me wrong.
My New 24' Tritoon has a F300 spinning a 14.5 by 15 Yamaha prop, and it will spin fairly easily to 6150-6200 RPM, Speedo is @ 42 MPH, which is exactly what Boattest.com says my boat will go.
Is ther any Benefit to jump to a 19 pitch?