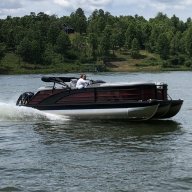 Messages

26
Reaction score

22
Hey Folks - out Saturday and went too close to a shallow hazard, I thought I was clear but the bottom felt differently. The prop struck a rock or possibly multiple rocks, likely resting on or jutting out from the bottom. I immediately put the engine in neutral, cut it off, and raised the trim to inspect. The skeg shows some scratching and there are some signifcant dents/gouges in the stainless prop (see pics). I should note that the engine 'jumped' presumably due to the impact of the prop.




Once I assessed that things were still in one piece, I started slowly back to the house and didn't notice any out of the ordinary vibration or noise. Everything shifted fine and the tilt worked okay. I crept up on cruising speed and couldn't see a difference in the RPM or the speed (or the mi/gal measured by the Simrad). Still no vibration or issues. I have
not
done a full throttle run to see if there are any changes in vibration or RPM at the top end.
I took the boat back out Sunday for a couple hours and noticed no ill effects, but still didn't push anything. When I pulled the boat out, I spun the prop to see if I could detect any obvious runout in the prop shaft (see
video
)
Clearly I need to either get the prop repaired (is that possible in this situation?) or get a new prop. But barring anything obvious developing, I am thinking I'll have the internals checked out at the end-of-season service. Being new to boating, but fairly mechanically adept, I feel that's a reasonable approach but would be really interested in the more experienced opinions here. What would you folks do?