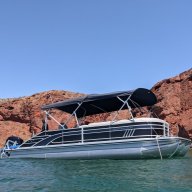 Messages

629
Reaction score

1,016
Location
Ok - so another great weekend out on the lake! Hit a new WOT with lower temperatures, 1 less person and only a half tank of gas (48.6 @ 6310 rpm)!!!

i started the day by switching to the second battery. It was a longer day of actually boating vs floating as we tubed and did the 45 mile run from Havasu Springs to Pirates Cove, at which point my Simrad kicked out an alarm about Bus Voltage and soon after my power steering failed. So I switched batteries and the boat would not start - obviously the other battery was drained (used it the day before, no issues). So I switched to battery 1+2, started up, alarm was gone, power steering was back. Drove back on the 1+2 setting so both batteries would charge.

I conclude: The power steering is hooked up to only one of the batteries, and after a lot of use it drains the battery and fails. So, I am going to have to attempt to trace this out and find out what is up, and look back at what the dealer said the issue was when I brought it in for service. This seems counter intuitive to how the 2 battery system should be hooked up - but consistent to my prior discovery that when this happens, switching batteries solves the issue (though previously the boat would still start). On the way back I ran both batteries 1 and 2.

More important, it was a great day on the water!