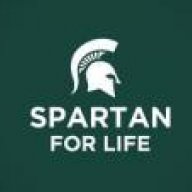 Messages

2,291
Reaction score

3,185
Location
Drunk 20-something snowmobile driver went over the Sea Wall two lots down from our cottage. High rate of speed. Impact changed his trajectory our way. They went about 60-80' in the air, hit the ground and airborn again another 20-30' into our yard. Shot forward on snowmobile due to landing upright, and crashed square into our deck and deck bench-tree. Their sled burst into flames, and the deck caught on fire. Rider unconscious for 14 minutes, and then awoken by flames and stumbles away from fire.
Details:
Dateline - 6:23 p.m. I get security camera notice at time of crash. I initially ignore it. Within seconds I get a second notification. Unusually to get two quick ones. I decide to open the app and see what's up.
I see smoke rising from the cottage deck, but with camera angle cannot see snowmobile, rider, or start up flames. Within one minute flames are starting to rise about 5-6' into camera view. I call 911 from our home downstate (2 hours away!). I get transferred up to Houghton Lake, and they dispatch firefighters and first responders.
Me and my oldest son are just sitting at home watching it all unfold on our security camera. Flames growing to about 2 stories tall, but still on deck. Just waiting for the side of the cottage to light up, or windows to break from heat and have the fire come inside. We see the driver stagger up from regaining consciousness after about 14 minutes and stumble away. We see flames getting bigger and little mini-explosions periodically.
Finally we see firefighters and hoses. We see them put it all out, and start surveying the situation/scene. I pack quickly and head up north. In transit I get a call from a firefighter (volunteer firefighter that is also the guy that puts in and takes out our dock). He lets me know they saved the cottage. Nothing breached the interior. Says state police apprehended the drunk snowmoblie driver, but that he is being sent to the hopital with injuries.
A totally crazy situation! It was surreal, in a panicky manner, watching it all unfold from our home security cameras and knowing we couldn't do anything to help. As many of you know, I put in the cameras to watch the boat and dock in the summer due to the cottage next door becoming a VRBO last year. I NEVER imagined my security camera's would save our cottage from a fire, started by a snowmobile crashing into our deck.
Insurance agent and insurance adjuster both said this was a first for them. Reminded me of those Farmers Insurance "Hall of Claims" commercials: "We know a thing or two because we've seen a thing or two."
Flames rising up after accident:

Remains of snowmobile after accident:

Cottage the next morning:

View from lake of initial impact with Sea Wall with trajectories:

View standing on Sea Wall at initial impact looking towards cottage for perspective:
Debris everywhere. But House is saved. It is going to need some good clean up, and the cottage will need some good fixing up: