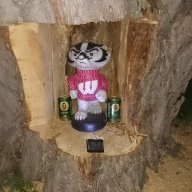 Messages

1,407
Reaction score

1,583
We have noticed significantly more winds/storms for being this early in the season. Seen several lifts and a few pontoons already lost.
That crap usually doesn't start until July in these parts.
Just wondering if others are seeing the same in their areas?

I asked one of my insurance agents if there is talk in the industry about the same thing, and the number of events last season. He replied "absolutely", and to expect premiums to go up significantly. He said that 2021 was the first time that Lloyds of London has ever lost money.