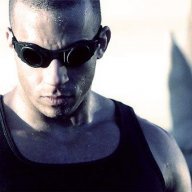 Messages

330
Reaction score

754
Location
This was touched on in a different thread, but rather than step on that one, I thought I would start a new one - especially since it only applies to those of us who trailer our boats.
The question came up regarding whether the bow of the boat should be up against the front bumpers of the trailer.
In my two years of trailering my tritoon 2575 I/O (a pretty long boat) I've never had the boat up snug against the bumpers - there's usually a 2" gap by the time she's fully loaded and off the ramp.
Here's how it happens:
Because of the length of my boat, the trailer goes out pretty far into the water in order to get the bow up to the bumpers. I try not to power it up, as I'm aware of the damage this can do to the end of the ramp - but I always end up using the motor to get those last 1 to 3 feet or so until I'm snug against the bumpers.
Once I'm snug against the bumpers, I'll leave the engine on slow-ahead (to keep the pressure on) and go forward and hook the winch into the center 'toon and crank it tight.
As my wife pulls the trailer and boat out, the stern of the boat settles onto the bunks. Because of the length of my boat, this can easily be a 24" travel or more depending on the steepness of the ramp.
As the stern settles, the angle of the boat changes vs the trailer, and the bow rotates upward (and a little backward).
Resulting in a 2" gap.
I use four straps on the bow: the winch strap to the center 'toon, a ratchet strap on each outboard 'toon to a steel loop on the trailer designed for this purpose, and finally a 'safety' ratchet strap that loops around the center 'toon and the center frame of the trailer. (see an old post of mine here - there are several sequential posts:
How to Tiedown your Benny when Trailering
). I also use two straps on the stern.
I've never had the boat move at all - even on long 10-hour trips. I asked the guy at trailersforpontoons.com where I bought the trailer (he seems very knowledgeable) and he didn't think it was necessary to be up against the bumpers because of my strapping system.
Even though my MidAmerica trailer is heavy duty, the ladder/post holding the bumpers is flexible with a fairly narrow base. I don't feel like its stiff enough to not flex - snug or not, it will allow the boat to move. Which is why I augment with the other straps
I'm not saying I know what I'm talking about - which is why I'm asking for opinions here from people who trailer.