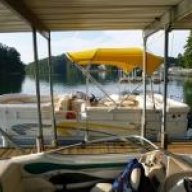 Messages

267
Reaction score

238
Surface water temp here is now in the upper 70's and the boating season is well underway.
Unfortunately, that means surf boats (some of 26' and loaded to ~8000 pounds) are operating too. The good news is SC has new laws targeting improper boat operation.
https://www.dnr.sc.gov/news/2022/mar/mar17-wake.php
Honestly, the larger wake/surf boats produce waves that can be damaging and lethal at a 1/4 mile. At least we have a step in the right direction that was years overdue.
There is a clear improvement in the situation here...hope it lasts. So far, there are fewer PWC's operating way too close to people too. Others may want to look at the new regs to make their inland waters safer and less destructive.
All in all, it's a pretty good day!