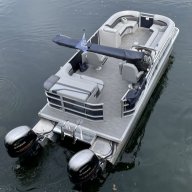 Messages

214
Reaction score

409
Actually moving as little water as possible is still a prime objective even for our 55+MPH Stingray. One of the reasons it makes that speed on only 190HP is that the I/O power package is mounted relatively high reducing the amount of the lower unit in the water as compared to most I/Os. To be fair, another reason it has speed is there is only ~14 degrees of deadrise at the transom. Too much trim at modest speeds causes porpoise, but at high speed high trim does not change the deck angle much but does get more of the lower out of the water (up until surface turbulence causes the prop to unload). Some props unload in a controllable progressive way, others are abrupt. Another way to look at it is that trim simply better aligns the trust vector with the direction of movement considering the natural deck angle of the hull at speed (which is relatively flat). Generally, using thrust to achieve a deck angle is not the best use of power for modestly powered boats.

To be sure, lighter outboards can beat my speed on similar power, but I/O's have their advantages too.
Thank you for reporting the data on your Stingray boat. Its response to trimming at two different speeds is most interesting. More to think about.