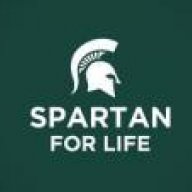 Messages

4,112
Reaction score

6,057
Location
We had a wind storm on our lake a couple days ago. You usually don't see something like this until spring, and usually then on the east or southeast shore. Storm pushed lake ice westwards into a massive ridge line. Hard to appreciate in the pictures, but the ice piles vary between 1 and 2 stories tall. About a 1/4 mile north of our lake house.








They are about 50-100 feet offshore, and zig zag parallel to shore where it got shallow and jammed up. It's in 3 waves of height. The rest of our shoreline is spiderwebbed cracked and 1-2' ridge line of ice stretching out in every direction. Being this late in season, and with winter temps set in for good now, I don't see this dissapating. Rather, it will probably get worse all winter now.
That said, should be cool to explore once winter lake ice is thick and secure all around it.
Not sure I'll be able to clear an ice skating area this year for my family. Lake snowmobiling will be very dicey on our side of the lake as a result of this. I can see weekenders at night going to fast and having accidents because of all the irregularities.
Thought I'd share as some might find it pretty interesting. As one can see, you don't have holiday boat parades on northern lakes. Ha, ha!