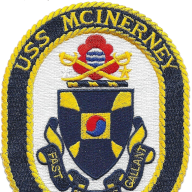 Messages

14
Reaction score

11
Location
We purchased our Bennington new in 2012 as we began our glide toward downsizing. Our prior boat was a 400 HP Howard Custom ski boat and losing 90% of your horsepower is a real test of your self-esteem....
From 2012 to 2017 from late April to late November we kept the Bennington in the lake docked at the marina down the street from our vacation home in Big Bear Lake. In the high altitude winter it was parked in the driveway covered with the factory cover but exposed to snow and ice. When we sold the vacation home and finally brought the boat home from the mountain lake, it had a couple of cosmetic issues.
First, from the summers spent floating in a "hard" fresh water lake without a lift, there were extensive "concrete" calcium deposits at and below the pontoon water line. Second, because the factory cover does not extend below the upper rail, the decals on the fencing were beginning to disintegrate from the weather.
I addressed the calcium deposits on the pontoons by throwing EVERYTHING at them including a few aluminum cleaners, progressive sanding, power washing. and good old elbow grease. The stern surfaces of the pontoons are still undone. My last step will be Sharkhide preserver.
For the fencing, I used a 3M rubber decal eraser supplemented by light sanding with 600 - 1200 sand paper. For the final step we contacted Gatorwraps in Ontario, CA and they designed a vinyl wrapping of our "grandchildren's" choice which explains the sharks and zombie fish. To at least "nominally compensate" for the loss of horsepower, I have installed more fishing electronics than a Russian trawler spying off the coast and 12 speakers driven by a 10,00 watt stereo.
The best part is that it gives us a private outdoor space to entertain select friends and family members who respect our mandatory masks as a condition of boarding. Yeah, we trust science over magic.
P.S. The USS McInerney logo is a tribute to my great-Uncle, Attorney and Admiral Francis X. McInerney who commanded American destroyers in the Pacific during WWII.
Here are the proofs for the vinyl that will be installed on July 27:
Last edited: