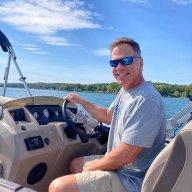 Messages

72
Reaction score

128
Location
Another question gang as I look to add a few items to my build. Reminder: 20SLG with 90hp dual toon. My dealer said it's pointless for me to add lifting strakes to the build with a 90hp dual toon (not elliptical). He says the motor is not big enough to really use the strakes and that they will only really help in turning... maybe. He said they won't do anything to make it more of a 'planing boat'... the dual logs will still plow through the water even with the strakes. Is he right?

BUT! He did strongly recommend the wave shield. While he couldn't guarantee any 'real performance enhancements' with it, he said there is nothing to not like about the shield... how it protects the bottom, keeps things covered. I mentioned less surging and a quieter deck and he agreed, but he did not mention those as benefits without my prompting.

So... yes or no for strakes? Yes or no for wave shield? Thanks!