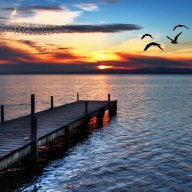 Messages

270
Reaction score

335
Location
A Garmin 53DV.
The RLCP I'm buying has a stock Lowrance 50 something or other on it.  I started researching better units.  I told people I wanted something with a decent screen where I can mark Carl's house (and the rest of you when I meet you) as a waypoint and navigate directly to places on the lake.  I like the breadcrumb feature for finding your way back and direct lat/lon entry as well.  I don't fish but might have guests that will.  I like the GPS reading speed and depth and other cool features. 
The boat store recommended upgrading to the Garmin 50S.  A place that sells Garmin said get the 50S was discontinued and 54DV it's better.  I called Garmin and they said get the 53DV because the 54DV is preloaded with the ocean/coast stuff and the 53DV is preloaded with the lake stuff but are otherwise identical. 
They're all around the same price so I'm going to take Garmin's advice and get a 53DV unless someone here can show where that's not a good idea.  They also sell a high res satellite something or other super map pack for my lake but it seemed like overkill and was at least two hundred bucks more.
Speak now or forever hold your peace . . . and don't worry because with this unit, I'LL FIND YOU! 
Last edited by a moderator: