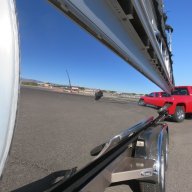 Messages

75
Reaction score

130
Well Gang,
We looked at many ways of securing fenders for our new Benny. I wanted simplicity, ease of use, consistency, no storage problems AND, no interfearance with the cover. So, we opted for these:
Amazon.com : Square Rail Adapter Fender holder or Pontoon Boats : Sports & Outdoors
I custom sewed webbing for the connection between the fender and the mechanism that attached to the boat. Not showing in the picture(s) are some small, 2.5" stainless steel carabeeners that adapt my sewed webbing to the rings on the rail clips. When it comes time to deploy the fenders, , you just reach into the storage under the seat, grab a fender and the clip, just clips onto the square tubing, DONE! The fenders are rectangular 36" units that, due to that length, can compensate for any odd dock height differences WITHOUT changing length(s) on the webbing, even though I made them TO be adjustable.
Scott
P.S. One of the pics shows the fender and rail clip on my work bench with initially a rope as the connection. Well, I decided I didn't like the looks of the rope and, decided to change to webbing. To me, a bit more cleaner looking and, WAAAAAAAAAAY easier to adjust, if and when needed.
Scott