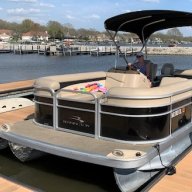 Messages

15
Reaction score

8
So, I am fully out on the water now having a great time! But, I just received my boat slip number. No power to the slips yet. No side walk to the boat docks. Nothing yet. Thanks COVID! The Electric company is backed up for 2 months. So, the Dock builders are at a standstill. I have my battery in its usual Bennington place down inside its protective storage compartment behind the back seat and well in front of the engine.

Now I am concerned about "When and how often should I pull the boat out of the water to recharge my marine battery?" I have no voltmeter on my boat. Can I assume that the easiest way is to get a hand held meter? Or, is there a "cheap" way to charge the battery without a cord?

Simple questions. Just hoping for simple answers.