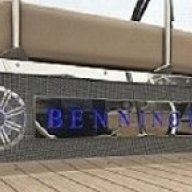 Messages

288
Reaction score

405
Hi guys, I'm looking for input on colors for a 23 SSBXP swingback. I'm trying to decide between granite with black, black with granite, granite with champagne, or black with champagne. It's going to have the blackout package. What do you guys think looks better? I can't decide.The Interior will be either sandstone with carbon accent or sandstone with driftwood accent. I'm open for suggestions though.
Here's the build (so far, lol) :
-pillowtop diamond pressed upholstery with 20% cut out
-panel colour- zebrawood slate
-flooring- slate vinyl teak
-blackout package
-curved bimini
-black heavy duty rub rail (included in blackout pkg)
-stainless docking lights (included in blackout pkg)
-175hp four stroke (not sure which one yet)
--SPS package
-in floor storage
-Illuminated speakers
-Kicker KMC10 Stereo upgrade
-RGB toe kick lighting
-RGB cup holder lighting
-Stereo remote for swingback
-Striker 4 fish finder
-Stainless swingback keeper rail
-Steering wheel upgrade (piano black)
-elevated helm
-Trapezoid table
-dual batteries
-ski tow bar
-pop up cleats front and back
-live well insert
-bow gate seat
-sharkhide
-still debating on RGB side illumination
I'd greatly appreciate any feedback on colours or options. I want to make sure to do it right this time around
Normally for my use I'd go with the 150hp but in my particular situation I have to add sea legs so I'm hoping the extra 25 ponies will make up for any losses from the weight of the legs.



Last edited by a moderator: