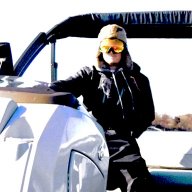 Messages

256
Reaction score

368
Location
Thought I would share some data logging and some interesting observations.
Background
Boat is a 2020 23SSBXP with SPS+ and F250xca. Dealer propped it with a Yamaha Reliance 14.25 x 17 which I knew was incorrect based on the Yamaha prop selector tool. Seat of the pants dyno also told me something was awry and likely under propped. After fighting with the dealer they agreed to swap it out for the recommended SWSII 15.25 x 19 (although I asked for the 15.5 x 18 but it was back ordered). But before the swap happens I wanted to baseline the original prop to 1) verify with data any improvement gains with the new prop and 2) use to support my position if there is a continued fight with the dealer.
Ran it today and logged every 500rpm. Just 1 person, half tank of fuel, light wind (5-8mph) and 90F. I found a quiet cove so waves were not a variable. Below is the chart showing MPH, GPH and MPG (solid line). I also plotted data from a Yamaha performance bulletin for a 2350 QCL with a F250xca and 15.75 x 15 to compare (dotted line).
Observations:
1) The heavier QCL had a higher MPH across the RPM band, I suspect because of the proper diameter prop and less slip. Confirms my 14.25 is waaaay under diameter for the motor
2) My boat takes longer to get up on plane, around 3000 rpm vs 2500 for the QCL. Fuel efficiency thereafter appears to be similar up to 6000
3) The QCL fuel consumption is greater across the RPM band, likely due to the prop doing more work, but having more drag from the higher diameter. Also heavier boat.
4) QCL gets up on plane and MPH is linear thereafter. On my 14.25 you notice it struggles until about 4000 rpm, then really spikes and gets up to top speed. Both boats max out around 45-46mph at WOT.
These are my thoughts which could all be wrong, but the graphs themselves tell a story. Once the new prop is installed I'll datalog another run, and finally raise the motor one hole and log that as well.
Should be fun. Lastly - go with your gut if you think something is off and don't let the dealer blow you off. You know your boat best, and even if they end up being right, odds are they didn't get it dialed in perfectly the first try.
thanks