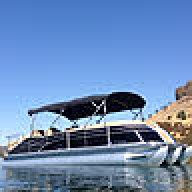 Messages

587
Reaction score

406
Location



Hey Guys & Gals
Just wanted to report back & share my Flashlight set up. I have been using this flashlight and I just love it.
Is $49 LumaTop
https://www.amazon.com/LUMINTOP-Flashlight-Lumen-Distance-Outdoor/dp/B07HJ19KQ5/ref=mp_s_a_1_5?keywords=lumintop+flashlight&qid=1566496550&s=gateway&sprefix=lumatop&sr=8-5
And they have a 15% off coupon right now.
It's a long throw spot light. Works great for projecting light forward. Great for navigation.
My brother 3D printed this mount.
Holds the light snug and tight. And the best part is you can mount it close by so it's easy to grab and use in a moments notice.
I'm sure if you wanted a mount for yourself my brother would print up a few to the Membership for the cost of shipping and some 3D printing plastic. But even if you don't get a mount these are great little flashlights. They run on a single 18650 battery and they cost another $15 some come with chargers. I recommend the Samsung 18650 battery's they are the best. Be sure to get the "Button Top" version. That's what they call the battery's with the little nub at the top.