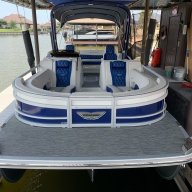 Messages

96
Reaction score

69
Looks like my Grandkids win. We are trading in the Bennington R23 for a new Regal LS6 Surf. It had the best seating-almost Pontoon like vrs the others we looked at and the same dealership that has sold us our last 5 boats has Regals.
I do miss the Hotrod feel of a good running bow rider so I kinda look forward to it.
Things I wont miss is trying to keep the pontoons clean as I keep my boat on a lift year around.