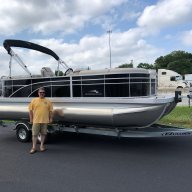 Messages

65
Reaction score

54
Hey guys, so I've searched and read the forum and can't quite find the info I need so here goes.
During the whole Pandemic my college age son and I have started fishing around our dock to pass the time and enjoy it. We'd like to venture out a bit so I tried going on our Benny 22SSRX a couple times but the wind/boat waves makes it hard to stay put and no drift. Then when I have to crank the Yamaha 150 to move us back in place it scares off the fish.
Our boat is mainly for pleasure and so I really don't want to drill holes in my deck like I see a lot folks doing. I just want something quick to put on for when we're going fishing and quick to remove once we get back to the dock.
So I have a few questions:
-Is there a quick clamp on type of trolling motor that anyone could recommend and how does it mount?
-Where would it be best to mount to avoid drilling any holes?
-Will I have to haul around a special battery for the trolling motor or since I have 2 batteries on board, can I connect the trolling motor direct to the existing battery terminals?
-I also notice some trolling motors say 24v. Is it possible to connect them to my 2 existing batteries or again does that require a separate dedicated battery?

I know, lot's of questions and I apologize. Just want to spend as much time with my son as I can while I got him.
Thanks in advance.