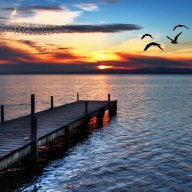 Messages

270
Reaction score

335
Location
I was so close to pulling the plug, at least for a  while, on selling my boat (2013 2275RLCP loaded w/Yam 250) when a buyer finally stepped up.  Had the guy been local I might have cancelled the deal but once he was on his way from GA with a rented trailer I just followed through.  I was going to post this in the "regrets" thread but I didn't want to hijack that thread and this is sort of backwards anyway. 


A little background, and I feel like I touched on this before, but I sold my boat because I was going to leave the fold and go to the dark side and buy a 24 foot I/O.  The short list included all of the usual suspects: Regal, Monterey, Chaparral, Crownline but the specific boat I was after, a 2015 leftover, was sold in March and I never did find a replacement that was right.  Of course if I throw lots and lots of money at the problem I can get a newer and even nicer version of "the one" but a line was crossed and the stiff lipped, bowtie wearing, worry wart of an accountant in my head put a stop to paying $10,000 to $15000 more for essentially the same boat I lost.  I briefly looked at the new R class with the windshields and arches, two features I wanted in an I/O, but when discounted prices (and I'm not talking local either) exceeded $80,000 for a boat that literally had only those two features over what I just sold, I didn't need that little pipsqueak telling me no, it was hell no from the rest of me. 


So enter plan B.  Here is where I downgrade a little bit and hopefully leave room in the budget for a future second boat.  That might be an inboard if upcoming lessons go well or maybe just some older speed demon if it doesn't need too much work. 


You see I tried to make one boat do it all and I missed.  The boat I had seemed a little odd to me;  Lots of power going nowhere;  Lots of nice furniture for only 2 people (90% of the time).  It's nice to know you can go almost 50 but it just wasn't fun when I did.  I also didn't like the carpet or the floorplan or the wasted space of the sunpad and the never to be used changing room beneath it.  So now I'm considering a 22 SSRX Premium with SPS and either a Yamaha 150 or 200 in the well touted I4 line.  I've read here and talked with several people who said the 200 may not be worth the extra $3200 to $3700 mainly because the 150 puts out more than 150 anyway making them very close.  I'm not too concerned about that.  What concerns me is going from ESP with power steering to SPS with hydraulic steering;  Going from an R class with pillow top to an S class;  Going from a raised helm to being down on the floor with the rest of em.  Then of course there are the differences I don't even know about yet!


Should I keep plugging away at Plan A?  That means I won't be in the fold anymore!  Or do you feel I'll be happy with an S class with a 150, meant for guests and simple cruising with the occasional burst to 40 mph?