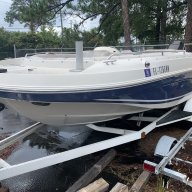 Messages

8
Reaction score

17
Been searching like a few others here, for info regarding the Benny RL210. Of course, I've come up empty handed. I've resigned to the fact that there will be no support documents, manuals, etc.

So what does that mean? It means anything goes! I just picked up a trade in at work (I work as a tech for a Powersports dealer here in St Augustine, FL), and the boss gave me a great deal on it…so, in goes the order for new gauges, depth finder/fish finder, bilge pump, aerator for a live well, batteries. This thing has sat for over a year, and my reputation here is that I can make anything run. Only downside is, I'm gonna yank ALL the wiring and start from scratch. I love electronics and wiring, so this will be like a fat kid in a cookie store. First things first though…get the motor to fire. It's got a Mercury 2.5l 200 hp V6 2-smoker.

I'm on the lookout for a good used bimini top for it, as the one that came with it was trashed. So the sales guys tossed it in the dumpster before I got the chance to get ahold of it. Coulda' used the frame, I'm sure…

I'll post pics as I go….oh yea, almost forgot, pretty much every square inch of vinyl upholstery needs replaced. We're not gonna go with the factory look….I think simple one-tone wrapping will be just fine. I'm trying to get out of this with less than $2k invested. Did I mention the boat was free? Lol….so far, the hardware ordered this morning rung up to $700 my cost. Still gotta buy a decent VHF radio, and all the vinyl for the seat cushions.