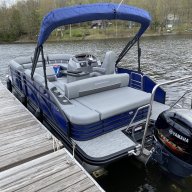 Messages

139
Reaction score

189
We've had our boat for 3 summers and it's been everything we've ever wanted. One thing we've noticed is that when anchored and floating behind the boat, as we normally do, it's very difficult to hear the music coming from the boat, without cranking up the boat system, and blasting out those onboard.
I've seen a few posts, mainly on facebook about speakers mounted to the tow bar (see pics for tow bar details). I think we're going to do this in the spring, however, this post is to get feedback before I purchase anything. Not looking to blast music to the shoreline, just have good, clean sound for those relaxing in the water.
- I would run a signal line to the head unit at the helm, back to the swingback (fished under the boat). I would also run an amp turn-on cable that I would wire to one of the unused aux switches so i could turn the amp on/off as needed.
- Amp mounted next to the batteries and wired directly to the batteries.
- Fish the speaker lines following the engine battery cable to the back of the boat.
- Drill a hole in the bottom of the tow bar for the speaker cable, fish it up and out another hole at the top.
- Considering going with a passive sound bar, something like this:
https://www.crutchfield.com/p_867CORE6/Wet-Sounds-Stealth-6-Core-V2-Black.html
It could be mounted to the underside of the tow bar and still leave clearance for tilting the motor up. I'm not positive that's it's fully waterproof and can be left out in the rain all year.
- Or, tower speakers, however I might not be able to mount them under the bar....clearance issues with the motor tilting up. something like this:
https://www.crutchfield.com/p_206KMTC65/Kicker-45KMTC65-Charcoal-Black.html
Please provide any input/thoughts/comments on this! Thank you!
One thing I've noticed is that there's very little discussion about how the wires are fished from the helm to the back with the under skinning on. Once I do this, I'll be sure to report back and post pics/details.