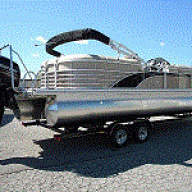 Messages

104
Reaction score

15
Location
Ok about 3 weeks ago, I took on the project of cleaning the mooring cover, Bimini top, and boot.  Now I really didn't want to lay the cover on the driveway or grass so I rigged up an anchor line between two luggage racks on two trucks and basically made a long clothes line to hand the cover on.  This allow me to clean it with a very mild dish soap aka Dawn and let it dry.  I then took a spray bottle and filled it with 303 Fabric Guard to re-treat the water repellency and it turned out great.
I got the 303 Fabric Guard from amazon and it was about 55 bucks for a gallon and trust me for the cover, bimini and boot I used every bit of it.
http://www.amazon.com/303-Products-30674-Fabric-Repellant/dp/B0000AY1W7/ref=sr_1_2/188-6166723-5163636?ie=UTF8&qid=1398712440&sr=8-2&keywords=303+fabric+guard
The mooring cover is really a 2 man job due to its size, just to keep it in place in case the wind blew so I enlisted my two kids to help hold it while I cleaned and then re-treated it.  The 303 dries pretty fast so they didn't complain too much.  The bimini and boot one person can handle that.  Just be advised putting the bimini back on the boat is a two man job just because of how tight it is but well worth the effort.
Here is a pic of my setup with two line and just the boot on there but you get the idea: