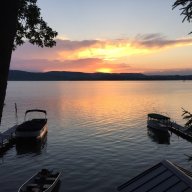 Messages

125
Reaction score

151
So i have googled and couldnt come up with anything so i figured i would ask here:

i am looking for something that will aid in docking that basically holds a line out from the dock that you can grab. Think a mooring whip but just holds the lines for you.

I say this because we dock on the left side of the boat and with it being a new boat and it sitting higher in the front, its hard to see the front compared to the dock and i REALLY dont want to mess up new boat.

I was thinking that if the lines could be held out from the dock, it would make it super easy. This isnt to much of an issue when i have other people on the boat but when its my wife and little kids, i am typically docking solo.

I didnt know if anyone has seen or heard of anything like this? I could modify a mooring whip but they are pricey and overdesigned for what im tryign to do.