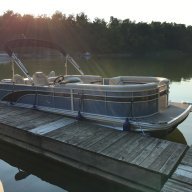 Messages

241
Reaction score

365


Hello to all the kind and fortunate fellow Bennie owners!
Long story: my wife and I have been going to the lake with friends, and staying in their family's homes, a couple of times a summer for ten years. This year, we were down for Memorial Day weekend, and we were presented with the opportunity to purchase a lake place of our own adjacent to our friends' properties. It had not been listed, but the sellers were good neighbors of our friends. Properties there rarely come up for sale, so we purchased it immediately. This was all a bit unexpected, though we had talked about a lake home "some day" for quite some time.
Another dream of my wonderful wife's was to someday have a pontoon boat. Since we had just purchased the lake place, it wasn't on the immediate horizon (one thing at a time, etc.)
Shortly thereafter, we were with her family on another lake in a rental house, with a rental pontoon. The weather was bad one day, so I got on the Bennington website to see what was available. We had enjoyed my friend's father's Bennington for many hours over the many years we had been so graciously hosted at their lake properties. It was my understanding that Benningtons were the best pontoons on the market. My friend's father's Bennie is a 20 footer set up for fishing. My wife would prefer more "couches," but understands my need to fish.
I was looking at all of the different options, and I realized that a 22SSX would be perfect for us: party in the front, fishing in the rear! I then remembered the dealer where my friend and his siblings had purchased his father's boat, so I got on their website just to check it out. That's when I saw it: a gorgeous Bennington 22SSXAPG with perfect spec's, including the 150 horse Yamaha that I wanted. To this minute I am convinced that whomever spec'd this boat out for the dealership was a genius! Even the colors were perfect!
I showed it to my wife, and I could tell that she was stoked, but her fiscally responsible side urged restraint. However, once she researched the boat and the price, even she was convinced: this was an opportunity that we simply would not see again, and could not pass up.
Long story longer, we just passed 20 hours, and will be pulling SHMILY! out of the lake this weekend for winterization and her first service. It's been a wild and wonderful ride, and we feel truly blessed in so many ways.
Thanks for listening, and thanks to you all for making this forum such a great place to hang out and learn!
Peace.
Last edited: