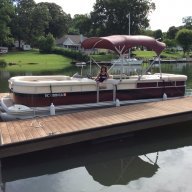 Messages

5,566
Reaction score

4,923
Location
We turned 780 hours on our 2014 gsr2250 this past summer. Yamaha 150 still purs like a kitten. Finally did the water impeller last spring with 650 hours on the clock....actually didn't look real bad. New plugs and under cowl fuel filter and fuel water filter under the seat all replaced.

Next year will be a slow year for boat usage for me

Lost my wife of 6 years to complications of covid earlier this month and it just won't be the same going out without her as co-pilot.
Very sorry to hear ILB. Couldn't imagine going on the boat without my wife.....