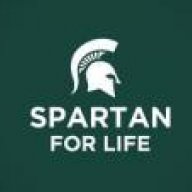 Messages

3,822
Reaction score

5,621
Location
This thread is an extension of my recent "Boat Security When Away" post. In it, I mention that the lakeside cottage next to us sold a month ago. It had been previously remodeled by a wonderful retired couple that due to health problems had to let it go. Due to its decently high asking price (remodeled, 98' frontage, big yard, lakefront), we never imagined it becoming a rental. Sold one month ago to a Florida family that got it as an investment property. It's now a VRBO rental.
I was worried, but tried to keep an open mind. Not like it's my property or that I have any say in it anyway. However, with the first four renters, there were already a number of red flags. Now I have security camera's up, and my concern is peaked due to:
(1) 3 of 4 renters either tried to use, or asked me about using, the other adjacent neighbors dock. The dock at the rental is shorter, and in shallow water. EVERY V-hull renter (3 of 4 so far) wanted to tie up at the neighbors dock on the other side that goes out 180' to slightly deeper water. Since I was up each time, and the neighboring property owner wasn't, I politely let the renters know "That dock doesn't go with your rental. You need to move your boat." That makes the renters 'big fans' of you for the week...sigh. Really puts me and my neighbor in a difficult position.
(2) 1 of 4 just put there boat trailer across the street on someone else's property. It is a property with a storage garage only as an elderly couple further down on our street owns it for seasonal storage at their lakefront cottage. However, since the owners don't live at their cottage to police it, 1 of 4 renters saw it as simple spill over space.
(3) One weekend was a group of 12 people up for a 21st birthday party. Apparently the girls dad rented the place for them. They were nice, and frankly not disruptive. However, they took liberty docking their wake boat at my neighbors dock. When docking I watched them literally hang on to his thin PVC flag pole while pulling in the boat (see pic). When I spoke to them politely, they initially want to discuss docking their boat there - "you don't think the owner will mind do you"..."its just for the weekend"..."we'll be careful"...etc. They were nice enough otherwise and once I told them the owner has already stated he doesn't want anyone he doesn't know tying off at his dock, they simply moored the boat off shore for the remainder of their stay.

(4) Same group above, 4 vehicles with this group. Between rental cottages available 2 car garage and decently sized "L" shaped driveway, you could get all 4 vehicles on property. Instead, their entire stay, 1 car was in driveway, other 3 in the road. Not partially in the road and partially in yard, but 100% in road, 3 cars entirely blocking one lane. 2 cars fit in front of rental property, but due to one having a long boat trailer, other cars were being parked in front of cottages where people were not up that weekend. They initially parked in front of our cottage, but I asked them to relocate to the rental cottage driveway. They instead moved to the road in front of the cottage on the other side of the rental cottage whose dock they initially tried to use.

(5) Owners of rental cottage had a very large tree pine taken down on their side of our shared property line during the above 21st birthday group's stay. Since the above group was parked in road, and I had them move from being in front of our cottage, the tree cutters parked their two trucks and trailers in front of our cottage. When I went out to go to the store, I noticed the tree cutters parked totally blocking our parking pad/driveway. They then set up their huge chipper 3' in front of my Escalade and my wife's Lincoln, and were hauling the limbs across our yard and chipping everything on our parking pad. Needless to say chips were flying out as normal all over our stuff. That got shut down fast by me! At which point I told them to relocate any and all equipment currently on or in front of my property. I suggested they speak to the renters staying at the worksite to accommodate them and their equipment.
(6) 2 of 4 renters have nearly HIT our boat multiple times trying to walk their boat out to deeper water during rougher wind and waves. My dock is 12' onto my property. Neighbor/renters dock is 10' over onto their property. 22' between them. I likely will need to totally rethink our dock configuration and placement due to the lack of responsible boat use half the renters have already demonstrated in a short period of time. This is the main concern that has led me to installing a security system and cameras.
So, that is just four weeks of this place being a rental. IF you rent your cottage, that's your business. However, realize that no matter what safeguards you have and what "guidelines" you leave for your renter, unless you are nearby and can check in, they are going to do whatever enters into their occasionally inconsiderate mind.
In our case, the NEW owners have a very nice cottage, very responsible and thoughtful online rental posting (no parties, groups 8 or less only, good stewardship directions, etc.), but that doesn't matter once the "renters" show up. In all cases, renters have been nice and respectful when speaking to them. However, in 3/4 of the renters so far, there have been red flags and concerns.
Finally, this is all making me feel like that proverbial "grumpy old man next door", instead of a 49 year old cottage owner just looking for some peace and relaxation lakeside in the summer.
Last edited: