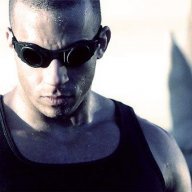 Messages

294
Reaction score

648
Location
The last couple of times I've been out on our boat, I haven't been able to reach WOT of about 4800 rpm. I've not been able to get over 2300 rpm.
It was suggested it might be a spun hub, but that wasn't it. Although I did have some cracks in the hub - replacing it didn't change anything. That makes sense because a symptom of a spun hub is that as you increase power, the engine will start to rev, but the boat won't go faster (because the hub is spinning). My engine wouldn't rev.
In the photo below of my instrument cluster, I was never able to get the engine over about 2300 with the throttle fully down. GPS speed was about 23.5 mph. I played with engine trim in increments, and could see the speed change in tenths of mph as i feathered up and down - but 23.5 mph was max. This is a Mercruiser 5.0 I/O on a 2007 2575 RL tritoon.
Two years ago, on Lake Travis, with two adults and a half-tank of gas, we hit 42 mph on the instrument speedometer (probably 39-40 on GPS). So I think my prop is the right one (Mirage Plus 15x17p). It was definitely fast enough to make me uncomfortable!
Note: currently the toons are clean, we had 2/3 tank of gas (40 gallons), two adults, two kids, bimini up, fairly calm lake. Engine is smooth running up to half-throttle, which gets me 2000 rpm and 18-19 mph. After that, the more I increase throttle, the more there is a weird kind of sluggishness - engine sounds a bit more labored but nothing happens.
I did some research online, and I found that this problem is common enough that there are multiple threads. One had a good list of possible reasons (see below).
My next two steps are going to be:
Replace the fuel filter. I realize I haven't done that since I bought the boat from my sister-in-law 2.5 years ago. Also, she said they always ran normal (ethanol) fuel in it, and it had sat unused for 3 years after my brother passed (since I bought it, it has only had ethanol-free)
Clean the flame arrestor. This is a $190 part, so I'm hoping I can clean it and not replace it.
If these don't help, I'm going to take it to my mechanic and have the fuel pump checked for adequate pressure (a neighbor with same engine told me the pumps can go bad pretty easily). Will probably do a tune-up at that point, and ask him to check the compression on each cylinder, and see if there is any ethanol-related damage to the fuel system.
Any other comments would be welcome. I thought this might become a good thread for us all in the future.
The checklist below is from another website:
Engine Won't Reach Operating RPM. Check

1. Fuel condition. Type and Octane possibly old fuel

2. Propeller pitch or diameter, damaged blades

3. Restricted fuel pickup tube or anti siphon valve

Fuel System Test

4. Crankcase oil volume, high oil level can cause aerated oil and lifter collapse

5. Marine growth on hull and outdrive (clean toons)

6. Wrong gear ratio in outdrive

7. Restricted carburetor air intake (clogged flame arrestor)

8. Restricted exhaust system (broken exhaust shutters/flappers) in engine transom shield or drive

9. Poor cylinder compression

Compression Test

10. Carburetor defective, or wrong type.

11. Fuel pump pressure and vacuum

12. Boat overloaded, improperly loaded, or improperly trimmed.

13. Engine Overheating

14. Engine timing and ignition system operation

15. Remote control cables and linkage for proper travel to open throttle plates fully.

Last edited: